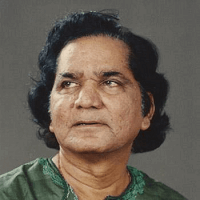 Pt Jagdish Prasad
Late Pandit Jagdish Prasad is Samrat's father and guru.
He was born around year 1937 in Bilaspur, Chhattisgarh, India
Jagdish Prasad (1937 – 2011) was a Calcutta-based Hindustani classical vocalist of the Patiala Gharana.
Court musician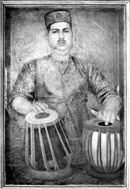 Raja Chakradhar Singh
He received his initial training from his father Badri Prasad, who was the court musician of the former principality of Raigarh, situated in the modern state of Chhattisgarh.
At the time of Maharajas, he was awarded himself by the principality of Raigadh at the age of 5.
Disciple of Ustad Bade Ghulam Ali Khan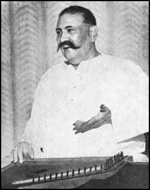 Bade Ghulam Ali Khan
Later he became a student of the legendary Patiala doyen Bade Ghulam Ali Khan. Under the tutelage of both, he enriched his repertoire in classical and semi-classical music. He had tremendous control over both melody (sur) as well as rhythm (lai).
"With an impressive blend of technical mastery, appealing emotional expression, craftsmanship, and a high artistic sensibility, we have in Jagdish Prasad Bade Ghulam Ali Khan Saheb's legacy. After all, it was worth the wait!"
Career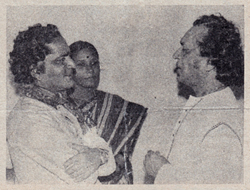 with Ravi Shankar
He was associated with ITC Sangeet Research Academy , and later on, he became a lecturer at the Khairagarh University in Madhya Pradesh. He is a Top grade radio artist.
Pandit-ji has performed in the major conferences held all over India and has also toured in US, Canada, UK and several parts of Europe.
Recordings
HMV Introduces Pandit Jagdish Prasad, LP
Ragas : Bageshwari, Gujri Todi and thumri Bhairvin
The gramophone EMI, 1978
Musical Imagery with Ustad Nizamuddin Khan LP
Ragas : Vachaspati, thumri
The gramophone EMI, 1981
Pandit Jagdish Prasad
Ragas : Yaman, Sohini, Khamaj
Swarashree, 1984
Laaj Rakho Mori
Ragas : Abhogee, Hameer
Venus Records 1995
Jagdish Prasad Pt Classical Vocal
Ragas : Bhatiyar, Bhoop
All India Radio Release HMV 1995
Jagdish Connection : Patiala
Raigarh Bridge Documentary by Rakhi Banerjee, 2009
Dawning Dewdrops
Ragas : Gurjari Todi, Bhatiyar & Kafi Thumri
Questz World, 2011
Shraddhanjali (2 CDs)
Ragas : Bageshri, Gujri Todi, Bhairavi Thumri,Vacahspati, Desh Thumri, Pahadi Thumri
Label Saregama India 2011
Jewel of jewels
Ragas : Madhukosh, Yamaan, Thumri Khamaj
Bihaan Music 2012
The Genius of Pt Jagdish Prasad
Ragas : Bageshri, Gujri Todi, Vachaspati, Thumri Des, Pahadi, Bhairavi
The genius 2013
Revival
Thumri More Naina Bhar Bhar Aaye, Naina Matware Tore, Moh Layi Un Sada, Ab Ghar Aaja
RP Sanjiv Goenka Group SaReGaMa 2015
Related articles
The story of a song by Shubha Mudgal, 2011 – www.livemint.com
A touching tribute by Dr Kashyap Dave M.D, 2011 – economictimes.indiatimes.com
His master's voice – The Hindu 2003
Online
Listen on Deezer
Listen on Apple music
Watch on youtube